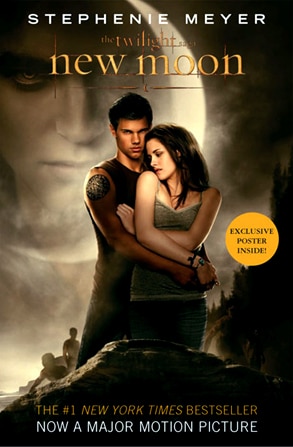 Here's from
E!
Online
:
We're usually not quick to judge a book by its cover, but this goes to Team Jacob! The wolf gets the girl, but Edward's clearly the one ready to howl at this image.

The snuggle pic—depicting Kristen Stewart's Bella all wrapped up in Jacob's (Taylor Lautner) well-toned arms as copper-eyed Edward (Robert Pattinson) moons over them—is the brand-new cover to Stephenie Meyer's New Moon. In case you hadn't heard, it's the sequel to Twilight.

The revamped book jacket may not be as cryptic as, say, a flower or an apple or a ribbon or a chess piece, but it's a bit more swoon-inducing (or should it be seducing?).

You even get a free poster if you choose to pick up the movie-promoting paperback—out Sept. 15 from Little Brown—for your 10th read-through. Now that should surely tide you over until Nov. 20.
How Cool is That! What do u Think